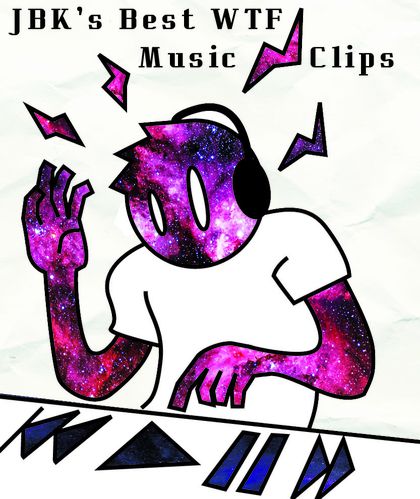 Bonjour les gens, pour ce week end je vous montre cet illustration réalisé rapidos avec mes skillz incoryable d'illustrator et de photoshop. Pourquoi faire tous à l'ordi alors qu'un dessin aurais bien mieux rendu? Parce que j'avais la flemme de me déplacer de 8m pour aller le scanner, voila pourquoi.
Mais ce n'est pas tout, je vous donne aussi ma sublime collection de Clip "What the Fuck?". Il est à noté que ces clips bien que bizarre ont tous pour moi un intéret car la musique présente est fort sympathique. Oui parce que des clips WTF, y a surement pire que ça mais je doute que la qualité musical s'alligne.


Flairs - Truckers Delight
ou se faire violer les yeux par des pixels.
Blockhead - The Music Scene
Ce clip est extrèmement beau, une sublime animation, un style graphique très intéressant et une représentation de la faune assez... spéciale.
Devendra Banhart - Foolin
C'est un clip de Devendra Banhart... c'est tout.
Electric Six - Gay Bar
Ce clip est juste merveilleux. Et les métaphores y sont subtils.
Hot Chip - I Feel Better
À ce niveaux là vous pouvez sérieusement commencé à abandonner tout sens logique.
DYE - Fantasy
Une si belle animation, pourquoi doit-elle se finir ainsi?
Ratatat - Falcon Jab
Oui alors là, on atteint l'ultime.
Et donc voilà. J'espère que vous avez aimez au moins une de ces musiques, je ne demande pas autant pour les clips.
Passez un bon week end, je ferais en sorte de continuer à poster des vielles BD en semaine. Et pourquoi pas une BD récente en fin de semaine (si vous croyez encore au père noel).
Merci de Liker, partager et laisser des commentaires, c'est ce qui me donne envie de continuer.
Vous pouvez suivre l'actuallité du blog et de mes autres projet sur la page facebook JBK PROD:
http://www.facebook.com/pages/JBK-prod/213723632000219